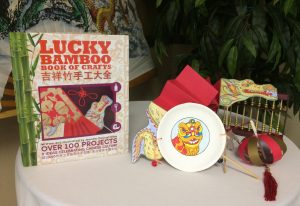 Welcome back! A highlight of this Fall was my California Bay Area trip in October. Although I had a heavy heart for all the suffering in the North Bay as the fires were blazing, I was able to enjoy my smoky travels and saw several wonderful friends. And oh my, we found the most amazing Chinese homemade noodle and dumpling restaurant in Oakland Chinatown!
Back home and to the Maine Chinese Conference in Bangor. I got to exhale this year and be an exhibitor only. Mingling and taking part in the workshops was much less stressful than being a keynote, as I had done for the last two years. Of course the small detail of much of it being presented in Mandarin was daunting but motivating. At least I got to train my ear, but I can't accurately relay the high points, sorry! I did get to present a copy of  Lucky Bamboo Book of Crafts as a gift to the visiting Consulate General of China from New York.
Then Thanksgiving came along… the kickoff to the long, multi-culture, multi-faith string of holidays. A wonderful board member from our local Chinese friendship organization described her blend of cultures at Thanksgiving, growing up Chinese-American which I thought was so interesting as we all consider what we include in our own family traditions.
"Growing up as a Chinese-American kid in Ohio and Maryland, we did not have the usual Thanksgiving meal. My mom always said that turkey is "too tough" and had no interest in making one for Thanksgiving, so we would have a big Chinese feast, with duck and soup and dumplings and a million other dishes–which was all delicious, of course. The only problem was going to school and having teachers talk to the class about eating turkey and stuffing and all of that, and feeling like the only kid who did not do that. It didn't bother me terribly (in part because I was quite happy with what we ate instead), but it underscored the feeling of not being entirely "American."
Now, with my own family, my kids are very, very into the full-on American Thanksgiving meal, and they love to help cook the various side dishes. For me it sometimes feels a bit like I'm just imitating a tradition, but I do see how we're in the process of creating our own tradition. We do sometimes insert a bit of Asian influence into the meal, such as a sticky-rice stuffing that's basically a Chinese dish. Either way, sitting down together for a big, festive meal is certainly a wonderfully universal tradition."
Maybe my friend's words echo your own experience. Even as I wrap presents and plan for the Christmas break, the upcoming 'Year of the Dog' is on my mind. Our local Lunar New Year planning is well underway and I better start thinking up some awesome crafts that bark! Please check my event calendar as craft dates get set. I'll also use this time of year to step out of my busy routine to not only think to the future, but reflect on all the people, places and experiences that made my 'Year of the Rooster' a good one.