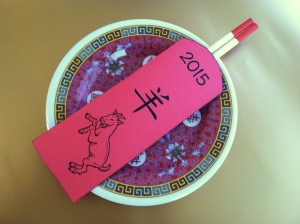 Now that we are back in gear after school break, I have some lesson plan suggestions for Chinese New Year in the classroom as you begin your planning. These ideas are all personally "teacher tested" and they can adapt up or down for grade level.
The actual date of 'Year of the Goat' (also known as Ram or Sheep) is February 19th, 2015. I point this out because for most districts, this will fall during February break so you will want to celebrate the week of the 9th, or hold off until the end with the Lantern Festival falling on March 5th.
A good approach to keep students engaged is to include the following five pieces (I will not do four- it is an unlucky number- did you know that?). If you have an easy projection method, any part of your lesson can be supported with images and videos. So here goes :
1) History- Start with a brief historical overview about the meaning and significance of the holiday. This is when some students will interject they know "all about it"… but for Western classrooms most don't think about Chinese culture or the holiday at all for the rest of the year. They can use a refresher! Include common ancient folklore such as the story of Nian the monster (great for younger kids) as well as the meaning behind the lunar zodiac, dances, parades and respectful time and rituals with family.
2) Food- Any teacher knows if you offer something edible, you get a captive crowd (actually that is true for many situations?). This could be as elaborate as dumpling making, or as simple as giving out almond cookies… but either way, discussing the traditional foods of a Chinese New Year banquet and their symbolism should be part of the plan.
3) Decorations- Adorning the classroom with paper garlands and lanterns, 'Fu' art, couplets on the doorways, and bowls of citrus, etc… is an essential part of the festive celebration. Lots of red!
4) Craft time- Select appropriate projects to grade level and time set aside. If you want a group activity, making a giant dragon dance head is a good activity to preface a parade around the school.
5) Giveaway- Hong Bao (lucky money red envelopes) are inexpensive in solid packs and a nice gift (in the spirit of the holiday) for your students. You can enclose a shiny penny, a fake gold Chinese coin, or a small toy or candy. If you have trouble finding them locally, there are numerous mail-order sites. Of course the students will already have a snack and a craft and that may be enough!
For specific ideas, instructions and templates, I encourage you to add Lucky Bamboo Book of Crafts to your resource library! You can also check out my Pinterest pages, and my free printable craft off this website. As an educator, you are also probably web-savvy and can do research for your particular class. I think the most important piece is framing how this holiday fits into a multicultural world, and how extremely significant it is to Chinese people, where ever they call home. You will find that sharing the Lunar New Year with your students will tick many curriculum boxes and most of all, will be loads of fun!