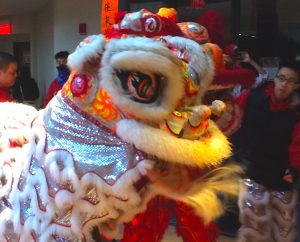 As we approach Lantern Festival this week, I'm pleased to share my favorite post of the year chronicling my Lunar New Year events. Each celebration offered a distinctly different approach and cultural experience, and I've come away with many warm memories and inspiring ideas. I also have an even deeper understanding of the significance of celebrating Chinese New Year with my family, friends, and the many communities I visited. I'll let the photo gallery illuminate each account.
Our local CAFAM 'Year of the Dog' festival in Westbrook, Maine was a much-anticipated reunion with many old friends. My daughter got in the mix, working at one of the craft stations for the day along with a terrific bunch of other high schoolers from the Portland area. This event required a substantial amount of planning and pre-event craft preparation, and as a board member I had my eyes and ears on many aspects of the jam-packed schedule. It was also our organization's first year hosting the event under dynamic new leadership. I designed some new crafts including a 'dragonfly copter' and of course had lots of 'dog' themed activities. The craft area was bustling all day as the excited kids hustled from one table to the next, not wanting to miss a project.
Then off to the lovely Peabody Essex Museum in Salem, MA. I designed original shadow puppets for their maker area to give a nod to their current PlayTime and upcoming China Empresses exhibits. Their ingenious creative director made a lit multiple puppet stage area so the kids could take their assembled and decorated puppets right across the room to play. PEM also had a second art drop-in area to make the 'Year of the Dog' pendant from my book. I loved how the directions were clearly displayed and the supplies were beautifully organized for the hands-on crafts. With both of these offerings, I've never seen the concepts, instructions and designs from my book taken to such a high level. Since its inception, I've really hoped the book would be a "workhorse" tool that readers could expand into full activity days and programs and I saw that come to life (yet again) at the PEM Lunar New Year event.
My last event was on a soggy, gusty day in Chinatown, Boston but nothing could dull the bright faces, pops of firecrackers and drum beats. We were welcomed to the China Trade Building at setup time with fresh-baked pork buns (at which point I knew this was going to be a great day) and had a very popular table all day, crowded with creative kids. After the Cultural Village ended and the last scraps were cleaned up, rather than hustling out of Boston I took a pause with my daughter and we had a meal at Gourmet Dumpling House. Outstanding food in a tiny, chaotic dining room. The gray, drizzled light was dimming outside but the lion dance troupes were still passing by the window now and then, with their drums and seemingly unlimited energy. I truly felt the soul of China that day.
So that's where my focus has been for several weeks. One last bit of news… Wes Radez of the Chinese American Family website has posted a profile about Lucky Bamboo Crafts and a lantern tutorial, perfect for the aforementioned Lantern Festival on March 2nd. This Oakland, CA based company puts out wonderful, informative content on all aspects of Chinese culture and how to share it with your family and community.
Until next time, I wish you a most auspicious year ahead.