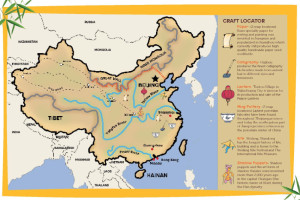 Recently my 6th grade daughter had a World Fair celebration at her school culminating from months of research and hard work. It was a gala evening where every student in her grade had a country represented with a tabletop display, interactive presentation, and oral knowledge to share with the crowds of family members. Did my daughter pick China? No, Ethiopa!
As I wandered from student to student, I was reminded again of the great opportunity parents and educators have to open up the world to kids and how eager and receptive they are to learn more, more, more. My teacher training was in elementary art and in the classroom I had it made. Each culture has such a rich history in handicraft, textiles, painting, sculpture…. the list is endless for curriculum ideas. But the bigger view of what a country symbolizes, reveres, and its unique mark on history is well within the capacity of understanding, even for young kids.
I know sometimes adults feel "art challenged" when working with kids. When you are using Lucky Bamboo Book of Crafts, perhaps a good place to start is with the Gateway to China section, exploring Chinese culture and sharing the factoids…. even jumping on to your tablet to dig deeper with specific topics on China or where questions are raised.
Then you may find that selecting and starting an art or craft project will happen more organically, based on the curiosity and interests of the kids and you all will have more confidence to be wonderfully creative.