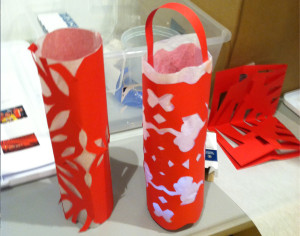 The Chinese New Year holiday has come and gone (boohoo!), ending with the Lantern Festival on February 22nd. My daughter and I celebrated on a large scale as well as with a dinner at home.
We participated in another successful and festive event at Peabody Essex Museum in Salem, MA. They were such wonderful hosts to us, as we oversaw the craft area and lantern-making. I whipped up some 'Year of the Monkey' bookmarks from my template (linked from my website) as a giveaway to mark this particular lunar year.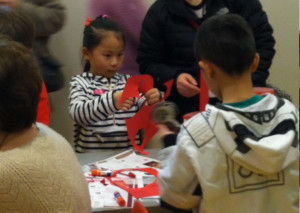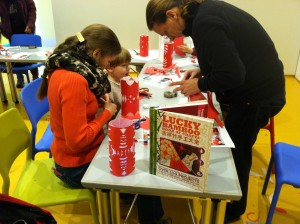 I also invited a few friends to a dinner at my home for our private celebration. The girls did monkey papercuts (we always like to include this ritual), and we had Kung Pao Chicken on the menu, along with bowls overflowing with oranges and tangerines. What made it extra special was the inclusion of a visiting kindergarten teacher from Chengdu that is a wonderful new friend. She showed me her wok cooking tips and there was some Mandarin in the air (not yet from me, however… but I'm still studying!).
I think my friend from Chengdu was happy to have lively and friendly company on the new year. It must be a hard time to be apart from her family in a place like Maine where so few celebrate the important occasion.
March is around the corner, and the milder air won't be far behind. I hope to energize my craft activities this spring and summer and will (literally) keep you posted!