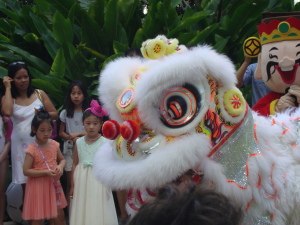 Back to Singapore! My dear friends hosted me and my daughter (now almost thirteen) to an amazing week of great company, adventures, food and culture. Being over Chinese New Year, we traveled to Asia during the perfect time. New England has NOT been the nicest place to live this winter, and the escape from the bitter cold and unrelenting series of blizzards made the trip all that more sweet. We even got invited with our friends to a home for a special CNY eve hot pot dinner with delicious seafood, meats and veggies, and 'tang yuan' with black sesame for dessert. Some highlights:
Soon after our return I led a craft at Peabody Essex Museum in Salem, MA. This was my "big event" for the season and they offered a terrific Lunar New Year program with many performances and cultural experiences. I also was thrilled that friends and family attended this one. With this event, I learned (again) that a single strong concept and very simple craft can be fun and engaging for all ages. My daughter was proud that her "Lucky Lantern" was selected to offer to the visitors, out of all the designs in my book. We adapted it slightly (fewer cuts and a tracing paper liner) and gave away a tea light with the lantern.
'Lucky Bamboo Book of Crafts' was offered in the PEM gift shop so I did some book signing as well. Our activity area was very busy all day and it was so satisfying helping to make Chinese culture accessible and enjoyable for everyone since that has been my quest since the beginning:
I also had a fun activity day early in the month volunteering with my daughter in a Portland after-school program (which we do twice a month). It was exciting to teach our young Somali friends about the celebration of the Lunar New Year. We painted scrolls, adding a "Fu" for a final touch, and did papercuts of "double happiness":
I hope no matter which calendar you follow, you have gotten as positive a fresh start to the year as I have, and find many ways to enjoy being creative with your family, friends and students.