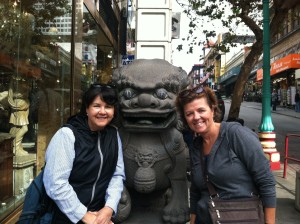 The foliage is still splendid in Maine, and the apple trees are weighted down with the last weeks of their bounty. This time of year never gets routine for me, as I drive along and see the doorways dotted with bright orange pumpkins and the frosty mornings give way to golden, glowing afternoons.
But just a few weeks ago I was far from New England, in the San Francisco Bay Area taking a long overdue trip to visit several close friends. A leisurely day in Chinatown was at the top of my list and my wonderful friends Andrea and Dan were ready to rally. We wandered for hours, and each shop, business and historical building was rich with culture and tradition and fueled my curiosity. I never tire of learning about the artifacts, artwork, symbols and products that are quintessentially Chinese. After a sumptuous dim sum lunch I gathered up my Chinatown purchases (research, right?) and headed back over the Bay Bridge with my friends. Oh my, what a day!
This week I am attending the Maine Chinese Conference in Bangor http://www.bangorchinese.com/CONFERENCE15.HTML, where I've been invited to be a keynote speaker about 'Lucky Bamboo Book of Crafts', as well as a workshop leader. I look forward to being part of the synergy of foreign language educators, professionals from China, exchange program directors, and Chinese culture experts from around the globe. I'll be walking the crafty side of the aisle, and will contribute my experiences of bringing crafts into the Chinese language classroom. There will also be exhibitors offering everything from Mandarin tools to educational opportunities both here and in China. All this in Bangor, Maine you ask? Why yes! I'm sure I'll come away with new friends and many fresh ideas and opportunities to continue on my path of Chinese crafts and culture.