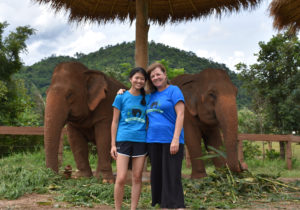 Elephant Nature Park, Chiang Mai
Let me start by addressing the "elephant" in the room…. and I mean that literally. I traveled with my daughter to Thailand in June and although Chinese crafts were the furthest from my mind, I wanted to share a bit about this life-changing trip. Along with tourist travel, we volunteered for a week at Elephant Nature Park in Chiang Mai. We worked hard basically pampering rescued, previously abused and injured elephants and maintaining their grounds. Participating in the work of an amazing woman, founder Lek Chailert was beyond inspirational.
I highly recommend getting involved with this organization, and feel free to e-mail me or leave a comment if you have questions about the volunteer experience. And oh yes, the mother-daughter time was the best!
I had a sweet event at a small island library last month. We made Chinese shuttlecocks, which was a perfect summer craft. After the construction, my daughter took the kids outside and they practiced traditional shuttlecock games. Thanks, Deb (Library Director Extraordinaire) for another wonderful visit!
Dragon boats book end my summer. In June I attended the Boston Dragon Boat Festival for the first time. The races were exciting on the picturesque Charles River and the activity area was bustling. I will hopefully add Lucky Bamboo Crafts to their mix next year!
In a couple of weeks I will head to Hartford, CT for their annual Dragon Boat & Asian Festival. It's been a couple of years since I've offered crafts there and I look forward to returning with some fresh projects. It's a great event where the city river park is alive with dragon boat races, performances, food vendors, artisans and organizations.
Yes, my new redesigned Lucky Bamboo Book of Crafts website is coming, it really is! I think everyone can relate to the struggle to complete projects that have only a self-imposed deadline. Summer in Maine is in itself a heavy distraction but a good one. I hope you are soaking in summer as well, and finding water, sunshine and good food with family and friends.