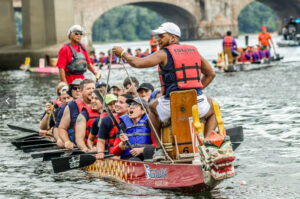 Now that this lovely summer feels rather finite, I'm reflecting on the Lucky Bamboo Crafts events that have made the summer even more sunny and fun.
I partnered with my local youth librarian, Jill to have a two-session shadow puppet workshop. A great group of kids from the summer reading program was very engaged in learning the Chinese history of shadow puppets and making the puppets and stage. We based them on the classic story of The Great Race and made all twelve zodiac animals from simple designs that I whipped up. But that is always just the beginning… the creativity abounded which resulted in colorful, unique puppets that could be used with either shadow or an open stage.
The Dragon Boat & Asian Festival in Hartford, CT was really an amazing day. Yes, I know I've raved about this festival for several years but this was the best yet. For the visitors, racers, exhibitors and vendors the weather was perfect, the river was calm, the performances of many cultures were stunning and varied, and happiness just seemed to fill the air. I offered an array of projects for the kids including chopstick cases, lion masks, lanterns and of course, dragon boats! I loved watching a few adults partake in the crafts as well. Between their dragon boat races and the busy festival events, a craft project, markers and scissors provided a relaxing oasis alongside their kids.
My dear friend Alison spent the day with me which was a huge bonus and kept me smiling. We came up in art college together so how full-circle to be together again, helping kids express their creativity!
I no longer have a daughter that needs help school shopping or lots of re-entry rituals for the new school year. She can just hop in her car and get what she needs. But this is her senior high school year so I'm buckling in for an "exciting" ride while soaking up all the "mom" time I can. And the summer has been filled with music, ice cream, beaches, friends and all kinds of fun, as Maine is always "what's not to like?" this time of year.
For Chinese culture, my role as president of CAFAM is ongoing and I look forward to being instrumental in offering new events and meeting newcomers to Maine in the months ahead. First will be a couple of events for Mid-Autumn Moon Festival not long after Labor Day, and I'm planning some fresh crafts around Chang'e, the jade rabbit, and of course the moon!