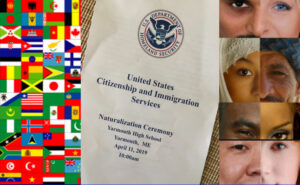 Recently I attended a citizenship ceremony at my daughter's high school. She sang with her choir to welcome sixty-six new citizens from thirty-five countries that call Maine their beloved home. So many emotions washed over me as the oaths were being recited and American patriotic songs filled the air.
There was nothing but joy being expressed in that auditorium… from the families themselves, from the students and teachers seeing democracy and American values unfold before their eyes, from the immigration officials, and from people in the community just like me that simply wanted to attend this life-changing occasion to congratulate them on completing their long paths to bright futures in this country.
This was an obvious reminder of our own family experience. We immigrated our child from a foreign land. Her life in America is a happy, full and positive one, and she is every bit as entitled to grow up and live her life here as I am, having been born in Massachusetts.
We all hear the venom being spewed from our POTUS. "We're full". Randomly deporting people that have lived their lives here for decades and raised families. Separating parents and children with no humane consideration. I've even heard from other international adoption families that there is a renewed urgency to get additional documentation and citizenship verification for their kids that are now in college. Just in case.
These are dark times for America. I don't often use this platform to take a position but this issue is undeniably intertwined with my family story as well as what I try and promote with my crafts and teach about world culture. We are all thinking about the immigration issue. Today I just needed to say something. And in our little town in Maine, for a few minutes, I had some hope.