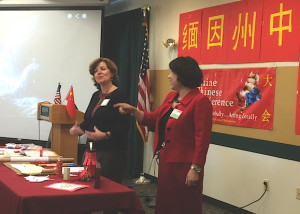 As we approach 2016, I've done a lot of contemplation on balance. I have a job I enjoy in project management, I'm raising a wonderful thirteen-year-old (yes, I even like her when she refuses to look up from her iPhone), and I have a cherished circle of friends that are anchors in my life. It all gets nicely rounded out by my Chinese craft and culture pursuits. Each area of my life makes the other areas richer… a yin and yang of sorts. So, on to the crafty stuff…..
The Maine Chinese Conference was such a worthwhile event, spearheaded by a lovely dynamo of a lady named Jing Zhang. I gave both a keynote speech and demo (without fainting) and even was on the local news https://wabi.tv/2015/10/31/maine-chinese-conference-at-husson-university/. The conference area was packed with educators, language specialists and business leaders that had a common commitment to offering more language opportunities and cultural partnerships in Maine. An event like this really helps me see where I belong- with these likeminded people sharing ideas, educational tools… and food! It also motivated me to finally, finally(!) start to learn Mandarin. My baby-step approach; 365 days of study (which has been any form of media, flash cards, etc..) which was started on my birthday last month. Then I'll see where I am, and consider a tutor in the future. Loving it!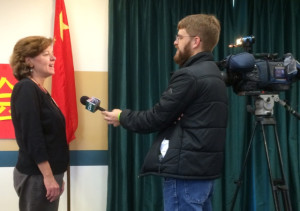 I'm thrilled to be invited back to Peabody Essex Museum in Salem, MA for their Year of the Monkey, Lunar New Year festival on 2/13/16. I'll be doing what I enjoy most; leading the craft activities and sharing Chinese culture through projects from 'Lucky Bamboo Book of Crafts'. I'm currently updating my website with a 'Year of the Monkey' free printable to get you started with your own projects. Check out my Pinterest pages too… lots of food, craft and culture pins to help you plan your projects and events.
So here come the holidays, for what ever calendar you follow. Some have already passed. It's the perfect time to get together with friends and family for crafts (which make great gifts), and to also make some goals to learn something new or explore a long-held passion more deeply. May you find a peaceful balance in your life in the new year!