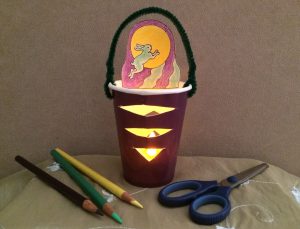 Would you like to learn how to make the easiest lantern ever with your kids? As the author of 'Lucky Bamboo Book of Crafts; Over 100 Projects & Ideas Celebrating Chinese Culture', I have shared hundreds of Chinese-inspired projects and craft designs for every occasion and setting. But recently I was preparing the craft station for our local Mid-Autumn Moon Festival and I wanted to bring something new. And easy. And festive. And versatile. This Jade Rabbit lantern worked out beautifully for all ages.
Tools and Materials:
paper party cup
chenille stem
paper graphic art
LED tea light
scissors
markers, etc. for coloring
glue stick
hole punch
Instructions:
Punch two holes near cup rim opposite each other, with one on the cup seam
"Squash" cup so holes are in the middle and cut some openings on each side in any shape
Re-shape cup and attach chenille stem through holes for handle
Color in (if needed) and cut out graphic
Glue graphic to inside rim of cup, positioned between the handle holes
Place tea light in cup
Another great thing about this lantern; it can be adapted to any holiday or theme. Halloween, Lunar New Year, Christmas pageant, Lantern Festival…. even a kids' sleepover activity. Just find the perfect image or graphic online (or draw one) that would look nice on the edge of the cup, and copy to the right size and number of duplicates.
So there's my little inspiration. Maine is aglow not only with lanterns but with foliage, and we're making spicy-sweet apple and pumpkin creations. I hope you are also enjoying this special time of year. Leave a comment and let me know how your lanterns turn out!