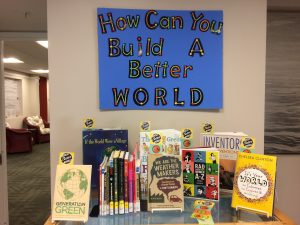 Another summer is here and some fresh ideas and activities are a must to enjoy the balmy days and less structured time with your kids. Summer camp and program leaders are also brainstorming and locking down schedules. I always like to get in the mix with a few thoughts so this can be a joyous and creative time with opportunities to grow and make, with a global twist. So how do you be a maker? It seems to be everywhere.
I just walked into my local library and was greeted by this display which featured several "maker" books for kids. Ok I am first to admit the "maker movement" seems like an overdone buzz phrase since my whole existence has been in a "maker space". But even if it's a rebranding of inventive creativity, often used in schools (the too cool for school ones?) and usually in relation to STEAM curriculum, I can still glean some good inspiration from the concept with only a slight smirk. Especially since much of the synergy seems to be focused on a world view of kid power. 
So what does this have to do with Lucky Bamboo Book of Crafts? The "making" has of course always been for me about exposing kids to world culture through embracing their creativity. Over the summer, that can take many forms. So here are a few ideas that sit well with summer days:
Volunteer– Ok, very general, but as I heard the the thud of school being out for my teen, I knew I had to be creative about perhaps suggesting something worthwhile for her open summer schedule? She is volunteering as an assistant at an amazing writer's book making camp at The Telling Room, an organization that develops young talent with an international focus. Look around… you'll inevitably find ways for your kids to dip their toes into new experiences while offering some help. Win, win!
Museums– Don't let the school field trips be the only historical and cultural exposure your kids get. Staycation or vacation, look around and find current exhibits, even at the smaller, quirky and often forgotten museums. It's a great activity for those too hot or too rainy days. (And our town offers free day passes to many. Check around!)
Camp– If you are a director or counselor, there are so many ways to make and learn… (and of course any of these can also be done at home or the summer cottage!). Grow an ethnic vegetable garden, learn and make international games, make an instrument, have a world culture "fair" or dinner… and crafts, crafts, crafts!
Recycle and repurpose– If you're going to make, you need stuff, right? Put a bin somewhere this summer and toss in cartons, leftover paint, scraps, string, paper, cans with lids (instant drum?), and any odd little bits that can help inspire makers. It will be ready for your kids and their friends and cousins when they feel creative. Good idea to do a "quick grab" smaller bin with basic supplies nearby, (scissors, tape, markers, glue gun, etc…) as well… to save YOU time hunting around the house when you'd rather be drinking iced tea!
I was also lucky enough to write a guest post for Globe Trottin' Kids which tells a bit about my journey (if you're new here) but also collabs with a wonderful website and blogger that is committed to all these virtues I've described. Please check her out!
Enjoy, explore, and keep in touch!