Greetings from leaf peeper season here in New England. It passes so quickly but never disappoints as we enjoy cider, pumpkins, and country fairs. And did you know chrysanthemums have a rich Chinese history?
I got to celebrate two Mid-Autumn Moon festivals locally. The first was our CAFAM celebration and potluck. As president, I had a bigger role and needed to MC the event… not my comfort zone but nobody threw tomatoes (or dumplings) so I guess I pulled it off. We had such a wonderful array of performers, I wanted to be sure and give them proper introductions.
The second was at the Children's Museum and Theatre of Maine and my daughter participated as well. We offered a lantern craft with the educational director and enjoyed seeing all the young faces in that great kids' environment. By the way, the museum is breaking ground on a new Portland location and I can't wait to see the growth of what is already a wonderful destination for local families and tourists alike.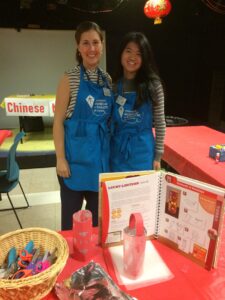 I'm looking forward to exhibiting at the Maine Chinese Conference later this month in Bangor. This is the only annual Maine conference completely devoted to Chinese language, education and culture.  But honestly, the focus of life now is my high school senior and her college admission process. I can hear the collective groan… it's a hectic and stressful time. There's so much positive hope and excitement for the future but man-oh-man I'm exhausted and I'm not even the prospective student. And the bittersweet emotions are already kicking in… this is "it".
When I post again, Halloween and Thanksgiving will have passed as will some college application deadlines and I'll be turning to Lunar New Year planning. But for now, I will try my best to enjoy these days with my daughter, even the tough ones.