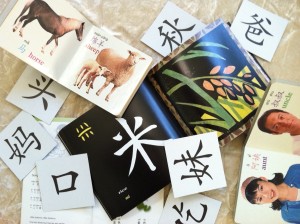 Now that my daughter is settled back into school and learning is a focus around here, I'm thinking about one of my own goals- I want to learn Mandarin. This is not new, just deferred over and over again with many fits and starts. Life has gotten in the way for me, with several months of unexpected "down time" as far as starting new pursuits in earnest and having the time and energy for them. But I'm hoping to move beyond the day-to-day of my job, mum commitments, and essential tasks and try to stretch again.
Why? Admittedly, I have a very "what's the point?" nature and am proprietary with my time. I know Mandarin will not be essential for any of my upcoming plans. But who knows what new plans may emerge as a result of getting my feet wet? I certainly will travel back to China eventually… and with some language under my belt perhaps I can be a cultural participant vs. a confused tourist. As with Lucky Bamboo Book of Crafts, knowing some Mandarin will reinforce to my daughter the importance of our multicultural world view, attitude and life.
I would also love to reach out to my local Chinese community more, and in their native tongue. There are lots of events and "practice Mandarin" roundtables and also our local Confucius Institute that can bolster this effort. Our high schools and colleges host many Chinese exchange students and teachers that would always embrace another Chinese speaker.
What will be the plan… online tools and videos? (Including Fluentlee.com, a great online real time language instruction site). Classes or immersion with a private local teacher? Pinterest is a good source to get started and I've already rounded up some helpful pins on my 'Learn Mandarin' board. I've put a couple of apps on my iPad too…. now the commitment! Yes I hear the collective sigh… don't we all have those many goals as we turn the page, or the season, or the life change, or the birthday or the year? But that's what makes us feel alive, and reminds us that the future can be full of wonder and growth (at any age!).
And how about my Chinese twelve-year-old? Well the reality is she has embraced learning French with such ease and determination, I don't want to break her stride and insist on a "come with" on this language journey. Maybe she will catch the fever later on. She definitely embraces the idea of being a world citizen, but that seems to be spread across several continents, not exclusively Asia.
Ok I've stated my plan. It's documented in the e-world and for now, I have run out of excuses. Have you or your kids taken on Mandarin and why? How have you learned and what has made it fun and kept you motivated? I'd love to hear from you!