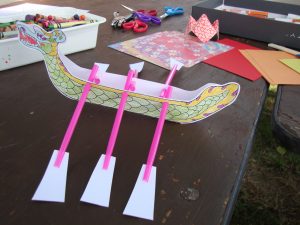 Summer camps and programs are right around the corner and whether you are planning for overnight campers or a day program, I'm sure that "arts & crafts" are an important part of the mix. Why not give your crafts an Asian twist or have an international celebration where you teach about many cultures while having fun? Here are some project ideas for Chinese crafts from my book to help you along:
Scroll painting has a long history (literally!) in China. You can get a roll of butcher paper (brown will look ancient!) or cut a large, narrow section of a sheet and paint or draw a group scroll. Think of a banner turned on its side. You can use a specific story for the art or be more general and just have the kids come up with some Chinese themes and/or simple calligraphy.
Performance crafts will get kids more invested in larger activities since they are used as part of a show. Ribbon sticks (for Chinese ribbon dances) or shadow puppets (and they can also make the shadow stage) are both loads of fun. You can see my Lunar New Year post from February for some shadow puppet ideas.
Paper folding is a wonderful social activity and quite addictive! Have a good supply of origami paper available all the time. You'll soon discover your secret paper folding masters! Instructions are easy to find online, and if you find you have some awesome crane folders, create group chains and mobiles to decorate the camp. Use a basic napkin holder with a top weight or arm to keep your paper organized and safe from breezes.
Kite making is an activity I've offered many times in summer programs. It seems "old school" that kids would know how to whip up a simple diamond kite, but not the case! And if you want to dig into the rich history with older kids, you can explore more complex designs, and artwork can be painted on the surface with basic craft paint. Happy flying!
Dragon Boat Festival races are popular worldwide on the June 18th holiday and extend right through the summer, especially in the United States. Lucky Bamboo Book of Crafts includes a reproducible template and instructions to make a kid-sized version. And if you make the boats water-worthy, you can have your own races! I'm attending the festival in Boston this weekend and look forward to all the Asian fun to kick off summer.