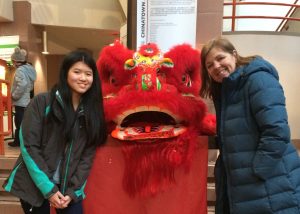 We had a spectacular Lunar New Year season sharing crafts at events and I'll get right into the highlights. This photo gallery should help illustrate all the fun! I got to roll out some new ideas, toss around some Mandglish, and celebrate from different venues and perspectives. I've been waiting a whole year for my favorite holiday!
First up, I constructed a dragon (from my book) for Peabody Essex Museum in Salem, MA, to use at their spectacular event that draws huge crowds. I thought their idea of the kids creating their own "scales" to apply to the train worked out beautifully!
Our local CAFAM organization celebrated with performances, food, workshops, and crafts in Westbrook, Maine. This was my biggest commitment, as I designed/selected all the crafts, purchased materials and handled set up for a large area of table stations, which I supervised throughout the day. To my delight, I caught up with several old friends and their (much grown!) China adopted kids. I was also able to share 'Lucky Bamboo Book of Crafts' with some new enthusiasts!
I volunteer with my daughter at an after school program and got to share some traditions of Chinese New Year with our lovely, energetic little group. Most of the kids are new African immigrants and we had some fascinating conversations about different cultural celebrations and norms, and they even picked up a few words of Mandarin.
Next stop, Boston, MA, for a truly exciting day with 'Chinatown Main Street', the key organization for Chinese events in the city. It was held at the China Trade Center on a day of crazy, snowy weather, but we would not be deterred and traveled down from Maine. The site was alive with activity and drumming, as frequent Lion Dance troupes came through, hungry for hong bao, lettuce and oranges to start an auspicious year. There were also scheduled performers, a few vendors and some Chinese artisans.
All the 'Year of the Rooster' events brought back so many sweet memories of when my nearly 15-year old daughter was young and she was the "customer" at the craft tables and activities. Now she stays by my side, setting up the crafts, guiding the kids, answering questions, and keeping everything moving smoothly. Thank you, honey! I will never tire of seeing the crowds of young, happy faces as they dive in with markers, scissors and glue. A beautiful mess! Popular make-and-takes this year included a rooster lantern, paper folding, a hand drum, a lion dance mask, and a papercut fan.
March may come in like a lion, but we are relieved to be over the hardest days of winter in Maine, as the sun gets brighter and the snow pack starts to recede. Now it's time to look for new ways to introduce Chinese crafts and culture in educational arenas, blog guest interviews, and in ways and places I have yet to discover. I'd love to hear your comments on what kind of shape that can take and what new craft designs are on your wish list!