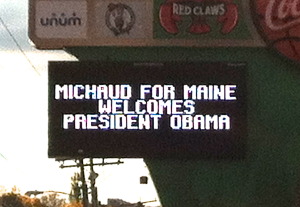 I'm going to resort to a riff and ramble here, in the wedge between fall activities and starting to approach the holidays. Our weather is changing too but thankfully not with the vicious weather pattern around the country right now. My heart goes out to the many thousands dealing with the wrath of winter so early.
The election season this month went from exciting to "exciting" as much of it did not go my way. But I was able to spend an evening with our Commander-in-Chief as he offered up support for our gubernatorial candidate. This was a complete thrill for my 12-year old that is a total U.S. president and politics buff. (Yes she held me captive for the entire 14 count 'em hours of the Ken Burns Roosevelt documentary!) One of the joys of our small Portland host city was an intimate venue… President Obama was right there. Sleeves rolled up and relaxed, he did not disappoint and the energy in the room was charged. But please readers stick with me no matter your leanings…. I do cross the aisle as many of my dearest friends are Republicans!
Talking about Portland, Maine, it continues to grow in a good direction with a few new restaurants that serve up darn good dumplings and Asian fare. These spots are long overdue in my opinion, and although they have a bit of a fusion sensibility in menu and lack the hard-core Chinese cooking my family often craves… we'll take it! Enough with the upscale pizza joints! This time of year also offers all sorts of crafty fairs from church lunches to uber-cool art college holiday markets…. just love it… sometimes three or four can be roamed in a day. I do try and "buy local" too…. as our culture (thank goodness) moves away from black Friday-style consumerism, and of course meeting artisans from every walk of life, I get inspired to keep my hands making.
My most exciting news is an invitation to participate with 'Lucky Bamboo Book of Crafts' in the Peabody Essex Museum Lunar New Year Festival on February 28th, 2015. The Year of the Goat (or Ram, or Sheep?) will be a great opportunity to do crafts with kids and celebrate! This eclectic gem of a museum in Salem, MA (www.pem.org) boasts an impressive Asian collection and an authentic ancient Chinese home and its contents reconstructed right on site. Much more on preparation for Chinese New Year in next month's post!
Stay warm (or cool, depending on your locale) and enjoy the swiftly approaching leap into a time of holidays, friends, family, food, gratitude and peace… in other words everything the gifts of the season mean to you.