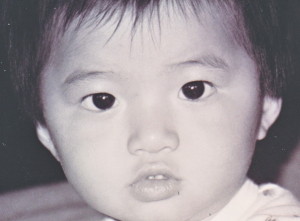 "This month, we celebrate adopted children, teenagers, and their diverse families. We work to give more young people permanent families and promising futures. And we encourage our friends and neighbors to open their hearts and their homes to children in need."
You may think these are my pithy thoughts on adoption, but actually President Barack Obama included these words in his recent official proclamation of November as National Adoption Month. For me, adoption was the only path to parenthood I ever considered. I know this is all a bit heavy for a craft book blog, but of course Lucky Bamboo Book of Crafts was created through adoption just as much as my family was.
So this November I'm taking the opportunity to double back, pull out pictures and reflect on the ten years I have been mother to my daughter. The memories of bringing her home are still so fresh; the anxiety and hurdles, and the faith I enveloped myself with when the setbacks mounted.
Adoption has improved every aspect of my life, in some ways that only the wink and nod of adoptive parents can understand, and also in just the same ways every parent is forever changed by raising a child. Lucky is a word that found its way to my book and also reflects how I've felt every single day since I received a photo of the baby I would soon travel to China to meet.
This month we are encouraged by our President to think about the role adoption plays in our country and our culture. I marvel at how strong the U.S. policies are on allowing all types of families to move forward with all different kinds of adoption. I know this is a broad stroke statement and people do have difficulties, be they legal, with immigration or with social services support. But with millions of children needing parents in this country and worldwide, it comforts me to know that if a family wants to adopt a child, systems, agencies and resources are in place that will work hard with you to make it happen.
My perspective is not to judge but to ponder; why do so many people choose to only give birth to children when there is already such perfection in the world that they could have for their very own?