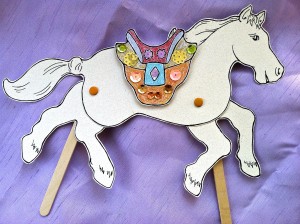 I'm finding myself at a full gallop right now! The Lunar New Year certainly brings out the revelers that have been waiting for the opportunity to display their red and gold, use calligraphy brushes and ink, and enjoy Chinese crafting fun. I've heard this month from teachers, parents, librarians and culture organizations; many that are discovering Lucky Bamboo Book of Crafts for the first time.
First a bit about 'Year of the Horse'. It is the seventh zodiac animal in the twelve year lunar cycle. Someone born under this wood sign is said to have traits of strength, focus, attractiveness, patience and loyalty. It is a personal favorite because my nearly twelve-year-old daughter is a "horse".
Just to chronicle a bit of what I'm up to (you can check the calendar for details):
Taped a segment for a local t.v. show (WCSH207) airing on Chinese New Year, 1/31/14
Steering the craft tables at our local CAFAM Chinese New Year celebration
Making noisemakers at the Boston Children's Museum CNY event
Attending the FCCNE event held during the Boston Children's Museum day
Leading Chinese New Year crafts at Portland Public Library
Teaching workshops at the Asian Studies Academy in Hartford, CT
Bringing CNY crafts to a neighborhood center serving new immigrant families where I volunteer with my daughter
Please pardon my lack of crafted word and deep thought this month; I'm buried in lists, creating horse designs, craft supply shopping and coordinating the next few weeks of celebrations and appearances. After the Spring Festival winds down I'll put away the glitter and paint, pack up the decorations, enjoy my cleaned up house (crossed fingers on that one but it's an important tradition for the holiday!), and start looking ahead. What will be next for Lucky Bamboo Crafts? I've only just begun!