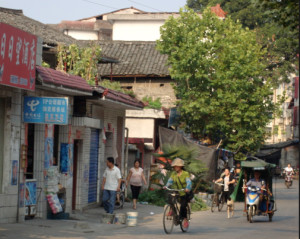 You would think I'd be used to it by now. Raising a daughter that is so very definitely, positively, undeniably mine. But then I watched the PBS documentary 'Twin Sisters' recently about Chinese twins adopted by families as infants- one growing up in a tiny village in Norway, the other in urban California. Many memories and emotions bubbled up again that I had obsessed over long ago through the adoption process and early parenting years surrounding taking my daughter from China and her first family roots.
There are common questions felt by many international adoptive parents; how will my child frame and overcome never knowing who her birth family is, whether she has biological siblings, the circumstances around her abandonment…. heady stuff for sure. I remember the many nights working on her lifebook (adoption mamas know what this is) into the wee hours… making sure every word was crafted and image vetted to tell my daughter her story in just the "right" way. Is it sad? Is it a joyous journey of serendipity? Is it just what it is?
I read a NY Times op-ed last month about young Chinese today and the rural vs. wealthy urban disparity in educational opportunities. What if my daughter had stayed in her tiny rural town, blanketed in lotus fields? Is "what if" even relevant? 'Somewhere Between', another documentary that profiles adopted girls excavates even further the questions and longings experienced by some families. One Chinese-American teen goes so far as to return to China in search of her birthmother. (That's a spoiler heads-up to preview before sharing with younger kids).
All of these quality written and documentary explorations snag my interest and for a bit, I can't turn away. It's all part of the fabric of my family… the reality we live with, juxtaposing daily life with the history which will never be written.
At a recent school conference, my daughter's teacher reflected on an assignment where students were to construct a timeline of their personal best/worst/significant life events. The teacher said she had pointed out to the class to note anything remarkable about their birth and joining their family. She then implied to us with a grin that my daughter had not really felt there was! Huh?
Perhaps we raised our daughter with a feeling of normalcy and being comfortable accepting her beginnings. That was certainly always our hope and dream. She was seven when I made the long journey back to China with her for a "heritage trip" to visit her orphanage staff and to our surprise, met her foster family as well. She was cool as a cucumber (unlike her mother) and I think it reinforced to her that we DO acknowledge and cherish all of who she is and our great fortune in that. The only other residual effect I can say for sure is I now have a daughter with insatiable travel fever. And at the end of the day, I have to believe love is the answer to most any longing that tries to take hold of her heart.