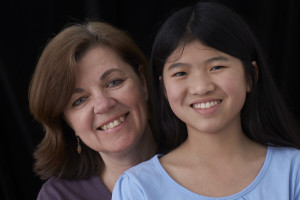 Maine is an official "Vacationland" right now. Better yet, I get to enjoy it as the ultimate "stay-cation"  with my daughter. I am never more proud and happy to welcome guests, enjoy the festivals, assure people the lobster is not overrated, look out at the sparkling ocean and boast about Maine until even the Chamber of Commerce feels like an under-performer.
Then the world taps on my shoulder. There's the wonderful new friend from Hong Kong (Maine in the summer) that found my book on Pinterest. Also in Maine now, my dear Singapore friends that we visited on their turf not long ago. And I sense my 12-year old feels the same tug as does her mother. As she turns the corner from child to teen, she wants it all. She feels so grounded and secure in our small Maine town, and cherishes her friends and school. But she talks of the future… with wanderlust that keeps her suitcase at the ready. "When is our next trip?" (Quebec City in a couple of weeks). I also wonder what conversations she has with her few but close adopted Chinese friends… do they ponder who will get back on another trip to Asia first? And her Dad and I have accepted that her college experience will be in D.C. at the very closest.
But with these thoughts my heart also fills with grief… the "world" just doesn't seem to be doing too well right now. The level of suffering… from war and terrorism to children scrambling into the U.S. desperate and alone…. all results in senseless death on a grand scale. As a parent it is tough to navigate; do I shelter my daughter from this world she wants to discover or have her gradually step foot on to real street?
For now in the glorious summertime, staying put, body and mind, gives me a breather. I can be selective and grab just the good stuff that 'Lucky Bamboo Book of Crafts' and international friends offer from the world experience. I can volunteer with my daughter in our local Somali refugee community and see some happy outcomes from a war-torn nation. And as for the harsh and  relentless newsfeed, we can turn it off when it gets to be too much. If only that were true for everyone.