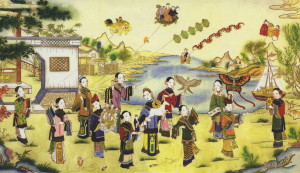 Here in Maine this year, I need to grasp on to something for hope that spring will arrive! There are certainly no signs of it yet as we still peek over the snow banks and shiver in the low digits.
China is the birthplace of the earliest kites in the world (yes!), and Weifang, Shandong Province is considered the area of the first designs and construction. There were many functional and interesting uses for kites before they became purely recreational, and the styles are wonderfully varied, including winged creatures, centipedes and geometric wonders.
Lucky Bamboo Book of Crafts is being put to the test this week, on an all-important holiday, my daughter's twelfth birthday. My Diamond Kite instructions (p.86) will guide the ten kids we expect at her birthday party where we will hopefully end up with ten beautiful, airborne kites! I tested and tested my prototype while writing the book, but I'm a bundle of nerves. As the mom AND the author/craft designer the pressure is on. Wish me luck and if spring has already arrived where you are, happy flying!