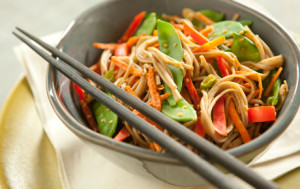 I have a confession to make… I enjoy Chinese and all Asian cuisine at least as much as I do Chinese crafts. Ok, maybe more. Or perhaps they are mutually exclusive?
While I was writing 'Lucky Bamboo Book of Crafts', many suggested I add some food history, traditional cuisine content and recipes. Not only because of other books they had seen with this combo…. (I guess making is making..), but because they looked at me suspiciously when I claimed my Asian foodie obsession could be put aside. Spoiler alert- I did not include food beyond a mention with some holidays. My eating skill far exceeds my chef stylings but I have tried many simple dishes.
I have been craving some lighter fare for summer while I put the hearty stir-fries and rice on the shelf for a while and here is what comes to mind that is fast, fresh and better for the hot weather:
– Cold noodles- many types of noodles and variations can include sesame/ peanut sauce, or light rice vinegar dressing, and crisp julienned veggies; great potluck dish or pack in individual containers for the beach/lake cooler lunch
– Vietnamese cold, fresh spring rolls with shrimp or chicken, rice noodle and vegetables; serve with hoisin or a sauce recipe
– Chicken skewers (I like small, appetizer size) on the bbq- these can have Thai (satay), Japanese (teriyaki) or Chinese flavors; also beef can have Chinese or Korean marinade. Great on a small fire grill at the beach or campground
– Asian slaw- Another great picnic/ potluck dish which can include your shredded favorites- Chinese cabbage, carrot, bean sprouts, scallion, sesame seed (white or black), etc… ; the dressing can be sweet, savory, or with a hot and spicy kick
– Bubble Tea with pearls- this is easiest with a kit from an Asian market; a total hit with kids! Be careful with very young ones- as could be a choking risk (yes I always have my mom hat on!)
Check out my 'Chinese Foods I Love' page on Pinterest (linked from my home page); I've added some great recipe pins for these ideas. Keep it simple, show others how fun and delicious Asian cuisine can be… and don't forget the crafts!