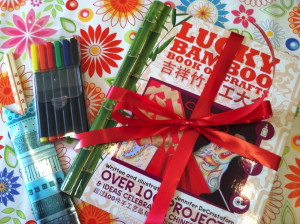 As we all enjoy a busy spring celebrating graduations, events and the end of school, I wanted to remind you of what a perfect gift 'Lucky Bamboo Book of Crafts' can be for those special people in your life.
Teachers, caregivers, graduates in education and international programs…. all would appreciate this unique and high quality book that they will use for years to come. Will the kids be spending time with grandparents or going on holiday with friends' families or relatives after school lets out? Send a book along with them to get the activities going for the hopefully few rainy days.
Are your kids going to day or overnight camp this summer? Or do you have a teen that is working at a camp? How about a preemptive gesture (o.k., bribe) to be sure your family will be in good favor with the staff and your kids will get careful and positive attention! Camps are always looking for new craft ideas that don't require a lot of costly materials.
If you want to pull out the stops, add some small items like a pack of origami paper, some decorative chopsticks, an inexpensive fan, or a simple art supply such as markers. And of course if you know anyone that is bringing home an adopted Chinese child soon, this book is an ideal introduction to Chinese culture for the child, siblings and parents.
You can purchase directly from me, a local retailer, or it is currently nicely discounted on Amazon (and can arrive or be gift shipped in a flash with Amazon Prime) and many other book retail sites. My distributor, IPG has done an amazing job getting the book out and available worldwide!
Happy Spring Gifting and Summer Crafting!