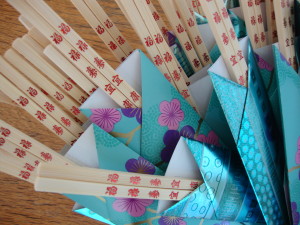 Now that I'm promoting the book, many have asked, "How are you selling it?". Getting the book in people's hands does not happen overnight, especially from a new author. This step is a continuation of my blessing and curse of being a homegrown self-publisher that up to now has not yet worked with a publicist or marketing firm. Distribution is in my future (I guess that is my cliffhanger), but I have been "intimately" involved with every action of getting the book some exposure and sales. Yes, in other words I-did-everything.
My friend Joyce has a lovely fine art and handicraft gallery http://www.holeinthewallstudioworks.com/ and hosted a book signing for me recently. Along with Chinese dumplings and refreshments, we offered origami chopstick holders as a little giveaway. As I was folding and preparing them, I thought of what a creative experience the selling part of this journey can be with the right attitude, patience and limitless imagination. It was a balmy, beautiful evening with old friends and new, where I was able to shine and just be an author, not a frazzled promoter. I also sold a nice heap of books!
I've talked to many children at schools and libraries and gotten some wonderful comments and jubilant reactions to the book. I've also shared crafting projects at these events that are thrilling to the young makers and to me as well, to be able to offer a real thing (right here, right now) to craft and take home.
I'd like to say that describes my entire selling experience. The reality consists of many, many hours on the computer writing promo mail, making phone calls to stores, dipping my toe into social media (truth be told, Pinterest is the only platform I actually enjoy), planning appearances and events, maintaining Amazon, sending out review copies and talking about my book until even I get sick of it.
But I believe in it and the book I now hold in my hands truly reflects my original vision. Even with the second-guessing (that probably occurs with all authors the minute their book goes to press), I'm proud of what I've created, and so far, customers are finding it unique and useful and fun. When I receive a review like this http://www.biculturalmama.com/2013/06/100-kids-projects-for-celebrating.html I can smile, knowing the book is landing where it should be, finally standing on its own.