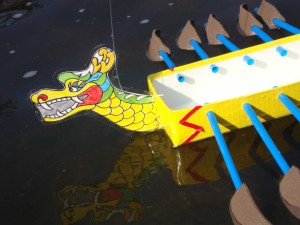 Now that spring has arrived (in Maine, we add a "finally" to that), the Dragon Boat Festival season is almost upon us. Although I embrace all Chinese cultural activities, I do get a bit of a "one track mind" steered toward celebrating Chinese New Year. This year I aim to discover and experience more about the dragon boat traditions and this fascinating holiday.
On the 5th day of the 5th lunar month (June 12th this year), Duan Wu is celebrated. Honoring the history of the great poet Qu Yuan, the holiday is usually spent at the waterfront where dragon boat races are the main event. Glutinous rice dumplings (zongzi) are enjoyed by hungry paddlers. Children wear incense pouches to ward off evil spirits. Drum beats and laughter abound as families gather for the fun.
In August I travel to the Riverfront Dragon Boat & Asian Festival in Hartford, CT to run a kids' crafting area while promoting Lucky Bamboo Book of Crafts. I look forward to being right in the action while hundreds of racers from far and wide show off their colorful vessels as they try for victory. I will also enjoy many other cultural exhibits and performances happening during the weekend and of course… the food.
I plan to adapt a dragon boat project from my book… one of my favorites. It will need to be an easy make-and-take for hot and tired young festival visitors with only a few free minutes. I hope to provide a little crafting oasis in the huge, active festival area. I'm thrilled that I was invited to participate!