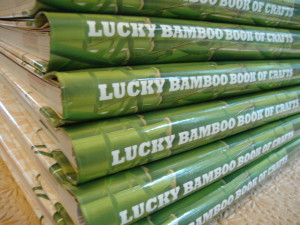 Just when I thought July would be a bit sleepy for book action, the most exciting step of my book publishing journey has happened. As of this month, Lucky Bamboo Book of Crafts: Over 100 Projects & Ideas Celebrating Chinese Culture is being exclusively distributed by Independent Publishers Group (IPG) (www.ipgbook.com) to retailers in the US and Canada. How fantastic is that?
They are a respected and huge distributor in the book industry and I was accepted through their small press division, Small Press United. What this means for me is that there will be someone else's oars in the water along with mine, as a cousin put it so well. Actually it's more like a cruise ship alongside my dinghy. IPG has a top-notch sales force and boundless marketing muscle.
I'm looking forward to my book having reach to so many more that can enjoy it, and now being able to focus my energies on special events and targeted niche marketing efforts. Oh yes, and also enjoying life a bit more and time with my daughter without perpetual sleepless nights and sweat on the brow. Here in Maine that means beach combing, festivals, lobster and friends. The summer is so fleeting and sweet!