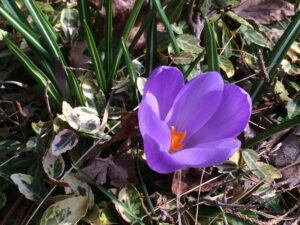 So here we are, and as a family member said when they closed the schools seemingly ages ago, "we're really in it now".
After a rocky Lunar New Year season here in Maine and around the globe, I had certainly hoped by April, I would be talking about crafts in a lighthearted way, not as a survival tool for housebound families. Kind of sucks the life out of it, so I will not even attempt to spin cheery ideas in a self-indulgent way. But you know crafts are good, and I'm sure you've got enough junk, recyclables and art materials to do them without entering a store or buying online, so give the kids a challenge. You can start with a "treasure hunt" around the house to gather the stuff.
We of course all have zillions of project sources and ideas that were already existing and never tapped (I may finally figure out the e-lending at my local library), community and school outreach for kids, and those that are taking the opportunity to dish out some new content now, that may have staying power for their businesses after this moves on. On that last piece, I say it without judgment… even if it's not my style during this crisis to draw attention to my own ventures. These are horrible times and people with a mob of kids under their roof need all the help they can get. Thankfully a lot of the stuff popping up now is free. Don't forget to look on your own bookshelf too… (if you're wondering, that's the large piece of furniture where those dusty folios with pages live). Everyone has some long-forgotten arts & crafts books.
But of course the bigger picture…. for me, the constant bad news is very difficult to take and the chirpy celebs saying "we will get through this together" and "this is the great equalizer"…. really? Maybe I'm just in a fragile and gloomy frame of mind but enough. I just hope those celebs are paying all their service providers throughout the crisis while they are furloughed. Maids, nannies, chefs, stylists, manicurists, drivers, personal assistants, gardeners, trainers…. as I doubt those folks feel equal in their resources to cope with a pandemic.
Well, perhaps I've pontificated for long enough. We are all dealing with variations of this scary, uncertain, unthinkable time and the impact on our lives. Amidst all the heartbreak, I hope you stay safe, stay healthy and stay home. I'll be back during brighter times…. J.D.