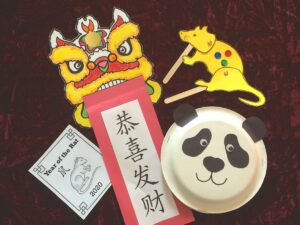 Welcome to my favorite post of the year, when I get to reflect and share the Lunar New Year festivities for Lucky Bamboo Crafts. As I write this annual post detailing the events that crowded my schedule, my memories go to experiences more than crafts. We rang in the Year of the Rat and also the year of the coronavirus. This made for an unusual and complicated Chinese holiday season. Navigating the planning, collaborating with the Chinese and non-Chinese communities, and just the general solemn and concerned atmosphere impacted both directly and indirectly, all my events and how I handled my participation and leadership. But along with all the bad news of how serious the crisis has become, there was plenty of joy and celebration.
I think if my Lunar New Year events had started today, that wouldn't have been the case and there would have been far more disruption and low attendance, because of how much the outbreak has grown. This was so apparent as I watched the Four Continents skating competition coverage last Sunday (figure skating is my jam) and the camera panned to the audience of thousands of white and black dots… everyone… I mean everyone with masks. And it was in South Korea, not China. I've worn those masks in China during both SARS and H1N1. The stress, fear, isolation, and uncertainty being reported brings back vivid memories and my heart goes out to those suffering, quarantined and displaced. Ok, well on to my chronicle…..
The Peabody Essex Museum Chinese New Year event is always such a treat! The place was packed with families eager to watch the performers and belly up for some crafts. As always, I had terrific museum folks guiding the way and offering help. I was set up in the new wing atrium; what a beautiful space with light streaming in. I can't wait to visit in the warmer months and enjoy the new garden court. I wrapped up the day with an early dinner with my dear friend Heidi, a Salem, MA "local" before heading north.
At our after school volunteering site in Portland, my daughter and I taught a lesson to the class on Chinese New Year. This always encourages the kids to share their own rich stories of holidays they celebrate. Along with the numerous students from African countries, a lovely, young Vietnamese student looks forward to getting up each year and sharing the similarities to China of her Tết family traditions. The kids always enjoy having one of their peers help lead the discussion and compare cultures with us as a "co-teacher".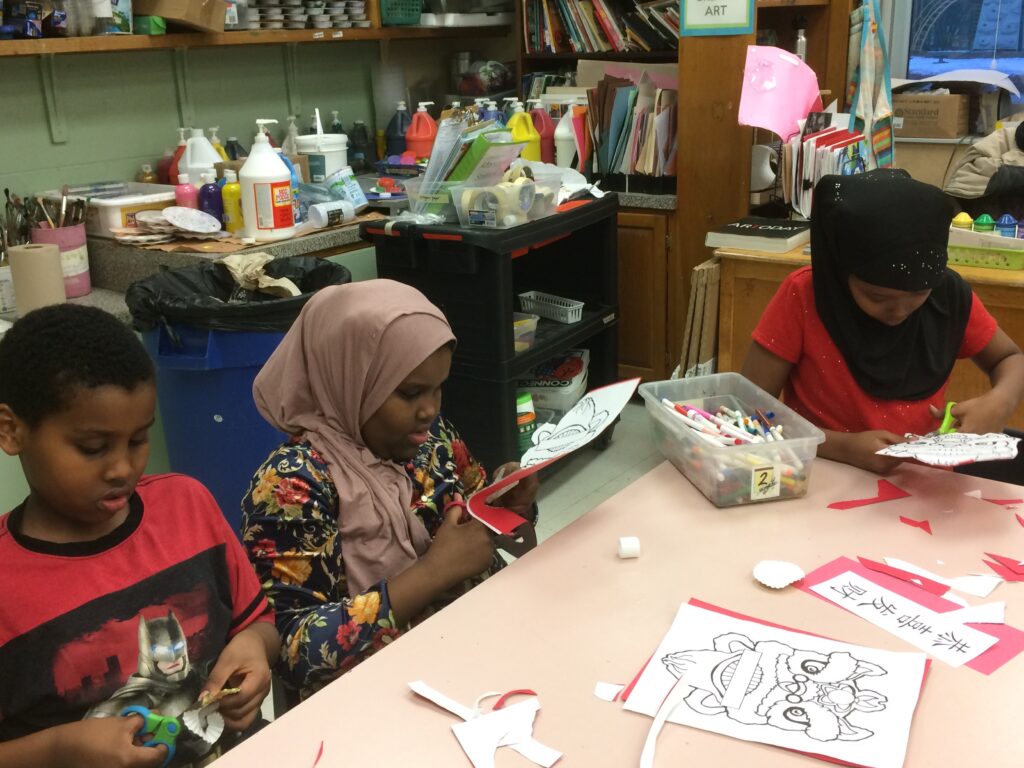 Our local event with the Chinese & American Friendship Association of Maine (CAFAM) was by far my biggest commitment. I was in charge of the entire event this year, not only the crafts. I'd say the biggest feather in my cap was bringing a top-notch performing group up from the Boston area, Chinese Folk Art Workshop as our main stage act. And just as our board thought our planning was pretty solid, we found out that two NY Chinese Consulate officials were going to fly up to attend. We felt grateful that they would make the trip and worked a small welcoming ceremony into the day. Thankfully, my Chinese friends on the board could help with the language challenges and appropriate protocol!
The day was also filled with workshops, crafts (of course), food, and demonstrations. Whew! My daughter handled the Lucky Bamboo Crafts table while I scrambled around. Good weather, hard-working people and commitment to the cultural mission of our event all were in our favor.
Chinatown! Who doesn't love Chinatown? The day after the large CAFAM event, I shook off the fatigue and headed to Boston with my daughter/co-crafter for a day at the China Trade Center. We were lucky enough to have several friendly and energetic teens from the local Chinese community help us throughout the day, and the folks from Chinatown Main Street welcomed us warmly, now that we've participated in several of their cultural events. This always feels like an outing more than a workday, even with several hours spent at the tables with families passing through and enjoying the projects. The lion dancers come and see us, gobbling up red envelopes from the children. We can hear the firecrackers outside, and never leave town without a delicious meal at a local restaurant. My daughter also grabbed a bubble tea for the road, and I think Kung Fu Tea is now a new favorite stop.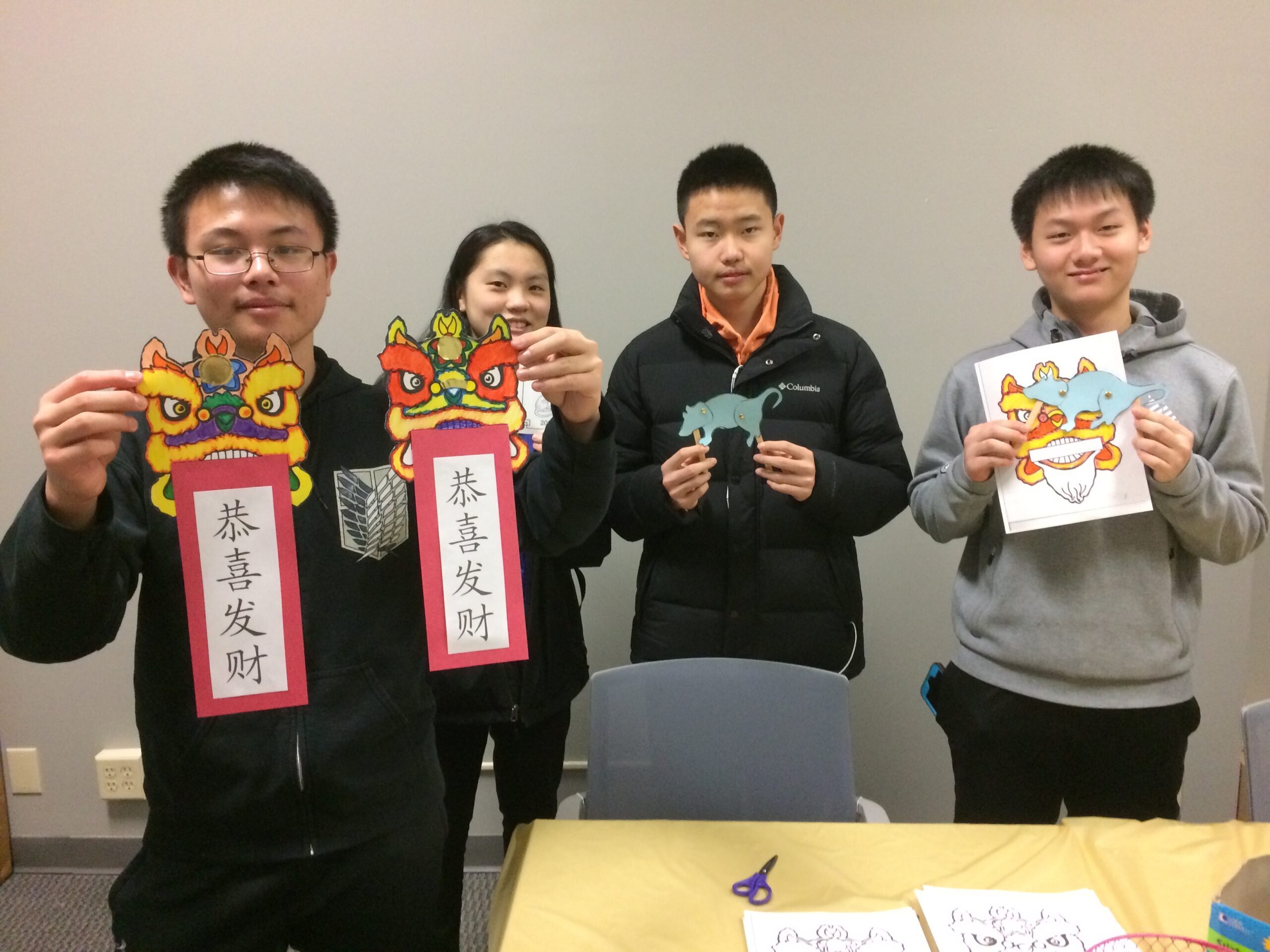 The Lantern Festival on February 8th was the perfect time to wind up my activities and events. Seems I had now come full-circle, ending up at my local library with Chinese animal zodiac activities. The children's librarian, Jill does such an amazing job, and after the previous two days of icy, inclement weather, this was a great morning for families to connect, catch up, and shake off the winter chill.
So now the lanterns have come down and the crafts are packed up. What will spring bring? Projects and craft planning. Focus on my job, causes, politics and the people and things I care about. A college decision from my daughter along with an 18th birthday. A heavy heart for her mom. And the knowledge that the future will be bright for our family, even if very different. Thanks for stopping by!