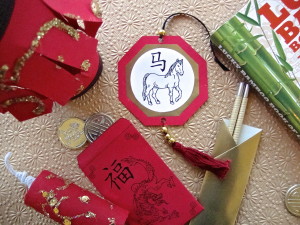 The Spring Festival (Lunar New Year) on January 31, 2014 celebrates the Year of the Horse. It's time to start planning your craft activities for school, home, cultural organizations, grandparent time, scouts and of course for your local Chinese New Year festival, banquet or parade.
Here's a little round up to get you started with some tips from Lucky Bamboo Book of Crafts. I annually plan 6-12 kid's crafts for our large Chinese New Year event in Portland, Maine. I'm in a nice flow of retaining some popular crafts each year, while offering some projects specific to the zodiac animal. You can start a list or spreadsheet considering these guidelines:
Quantity– You'll need to plan for copies and materials. Duplicate designs or templates for copies on one page where possible. Estimate the number of crafters expected between 3-15 years old. Then add a few extra as some may want takeaways for a sibling at home or a teacher.
Variety– If you are preparing several crafts, include common projects such as lucky red envelopes (hong bao), and a Fu banner. Then add crafts with varied materials, themes and shapes; for example, a puppet, a fan, a mask and some origami.
Supplies– Red, red, red! Get out now over holiday break and pick up red tissue paper, card stock, ribbon, fabric and partyware. Gold is also available in the New Year's Eve section. Grab red and gold materials while still easily available at dollar and box stores and right after Christmas they are often on sale, as well. Tools (scissors, hole punches, etc..) can often be borrowed if you make the effort. Check your markers, glue sticks and crayons… if dried out or broken, refresh them.
Preparation– Allow time to prepare masters for copies and purchase materials and supplies. Good template shapes are the key to successful crafts. Obviously I'm fond of my designs from the book, but simple project templates and graphic elements (images, Chinese characters, etc..) are abundant on the web. Play around with copies and "old fashioned" cut and paste to get them right. It's often faster and easier than trying to make a computer graphic.
Crafts are just one piece of a successful event. You'll want to consider food, decorations and any performance offerings (such as a dragon parade or lion dance). But crafts are often a favorite of the kids. They add collaborative fun and relaxation while teaching about Chinese culture, and result in cool stuff to bring home. Gong Xi Fa Cai!