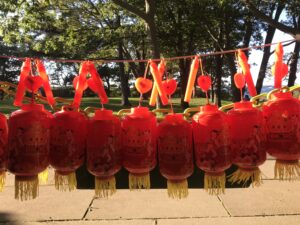 The days are so short, dark, and cool as we head into the quiet peace of late Fall.  Along with that, it's time to plan the festivities of a real holiday season after missing so much last year. The struggles seem more scattered now. High prices and a multitude of supply disruptions. Schools caught off-guard with sudden covid surges. Trying to live normally but still trying to cope with the trauma of what has been lost in the last nearly two years.
I talk about this first because the pandemic is still first on everyone's minds and still greatly affecting everyone's lives. But what gratitude I feel for having the vaccines now so available, even to children, and even to those that want a "boost". Hopefully, by now, the naysayers have been firmly pushed into their shame corners and will stay there.
So, looking back. It was wonderful to see the CAFAM community and local friends turn out at our Mid-Autumn Moon Festival. We gathered at a beautiful venue overlooking Portland Headlight and the tasty food and warm conversation were abundant.
Just a couple of weeks later, I was one of the presenters for a CAFAM historical marker unveiling in Portland. For those from afar, you may not know that Portland…. and Maine have a rich history of early Chinese immigrants settling here. We honored one particular family for their contributions and you can read more about them here. The best part was that several of the Goon family members, some elderly, traveled to Maine to attend! As they stood in front of their childhood home, I felt our ceremony and remarks were very meaningful and we were all so filled with positive emotion.
And now, looking ahead. Lunar New Year is taking shape, and we are moving forward with a local performance and celebration. Details to come in my event calendar, and Lucky Bamboo Crafts may hit the road with some other events, as well. Hopefully 'Year of the Tiger' will bring lots of good fortune (and dumplings) and fewer hardships for everyone. My "empty nest" has been pretty calm, although I miss my daughter terribly as she finally gets to partake in a normal college campus experience. Time to turn some new pages in life, with projects, work, travel, crafts, new friends, and 2022 may even be the year of Mandarin. While giving thanks, for sure.