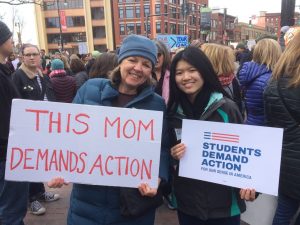 Every few months my loyal readers (please say you are out there) may notice my post is less thematic and more a grab bag of thoughts and stories. Well, here we are! First, the photo… let me explain, or perhaps it needs no explanation. I resist the temptation to use this blog as a political forum, but I will admit I'm absolutely rabid about increasing gun sense and safety in this country. I've always valued connection, but am now more than ever making sure my efforts extend to issues that really matter and (in my opinion) really need to change to have a civilized society.
Learning about world culture and teaching kids the value in that through crafts has always been my focus while sharing my book. But now with the (longstanding) out-of-control access and abundance of guns in this country causing a lack of safety for students of all ages and their educators, I'm forging a stronger relationship with the gun sense community. I feel it's an obligation, not a choice, and my daughter is on board too. I do this while having friends and family from all political walks of life, and heck, I live in Maine where rural gun ownership and hunting are the status quo. So I am respectful of all (well er, most) views. But one thing we can surely teach our kids is that there are times when we owe it to ourselves and others to Take a Stand!
In other updates, my creative side feels satiated right now, even though I'm not currently making lots of kid crafts and running around with bins of materials. I'm taking small opportunities to connect with people about China and crafts in a multitude of ways. I recently exhibited at FLAME, a foreign language educator conference, and was able to spend the day with mostly secondary teachers that offer Mandarin in their schools and go quite in-depth with their curriculum.
I met a visiting teacher in Portland from Jiangxi, China (my daughter's province) recently and am enjoying getting to know her. I'm so impressed when educators come to Maine, never having been to the US, and put down temporary roots as they try and learn the customs and city. She actually found me through my book that a colleague had gotten for her as a gift. She makes beautiful, artistic flowers from wire and silk. We instantly felt connected by our passion for Chinese crafts.
My last news of inspiration is the "under construction" re-design of my website. You may see a few changes that cross over into this blog as well, as I likely will move the whole shebang to WordPress. So this is the part where I tell you I'm finally going to take a course and get nimble with my blog and site, right? Why do that when I have the wonderful and talented webmaster Lisa Montagna available to help? I'll still have my hands full deciding on content, rewriting copy, and updating the design and styling with scribbled layouts. (Yes, I'm old school!) My vision is for the website to be much more than a landing page for my book and have images, instructional videos, resources, and lots to explore. It could very well take me on a new path.